GST TRAINING IN KOCHI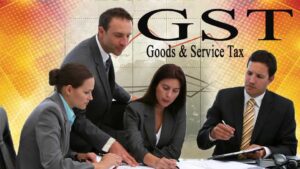 What is GST
In simple GST is known as the Goods and Services Tax. Goods and Services Tax is an indirect tax used in India on the supply of goods and services. It is a comprehensive, multistage, destination-based tax: comprehensive because it has subsumed almost all the indirect taxes except a few state taxes.
 Types of GST in India
CGST, SGST, and IGST are the 3 types of GST in India.
CGST and SGST are levied on intra-state transactions.
CGST is collected by the center and SGST by the state.
IGST is charged on inter-state goods/services transactions.
SCOPE FOR GST TRAINING IN KOCHI
In the current scenario, GST plays a pivotal role in the uplifting of the Economy of India.
For Job seekers who are looking to achieve a bright career in GST, Kochi is the right destination.
Prohub's GST Training in Kochi offers one of the affordable and recognized GST courses in Kerala
The main advantage of GST training in Kochi is its flexibility in time and Affordability.
WHO SHOULD LEARN?
• Professionals getting to handle tax compliance issues.
•Graduates and Postgraduates who wish to upgrade their skills in line with GST
•Freshers in banking, finance, and accounting look for a career
• Individuals who shall help their clients within the concept of taxation under GST
• Officers who are involved in new tax regime and calculation of liabilities
• Candidates who wish to use for organizations that demand GST training
• Accountants who are looking to update themselves on tax and accounting changes
GST Certification Courses
GST qualification courses are modern courses that have recently increased vocation opportunities for graduates,  and cost specialists such as resigned government officials and other qualified candidates including Chartered Accountants, Business Secretaries. It increases the chance of salary raise by 12% to 24%. An individual can start consultancy of their own. Duration of coaching 35 to 40 hours. online and in-classroom sessions. This article aims at conveying the importance of the GST certification courses by explaining the varied aspects for knowledgeable and anyone who could also be within the business of products and services industry.
Skills You'll Learn
1. Taxation
2. GST training
3. Registrations
4. Return Planning
5. GST Laws
6. Record Keeping
There are a number of GST TRAINING INSTITUTES IN KOCHI
1. Prohub Learning – Accounting Institute in Kochi, SAP Course in Kochi, Tally Course in Kochi, GST Course in Kochi, Accounting Course in Kochi
For any queries or clarifications visit: Prohublearning